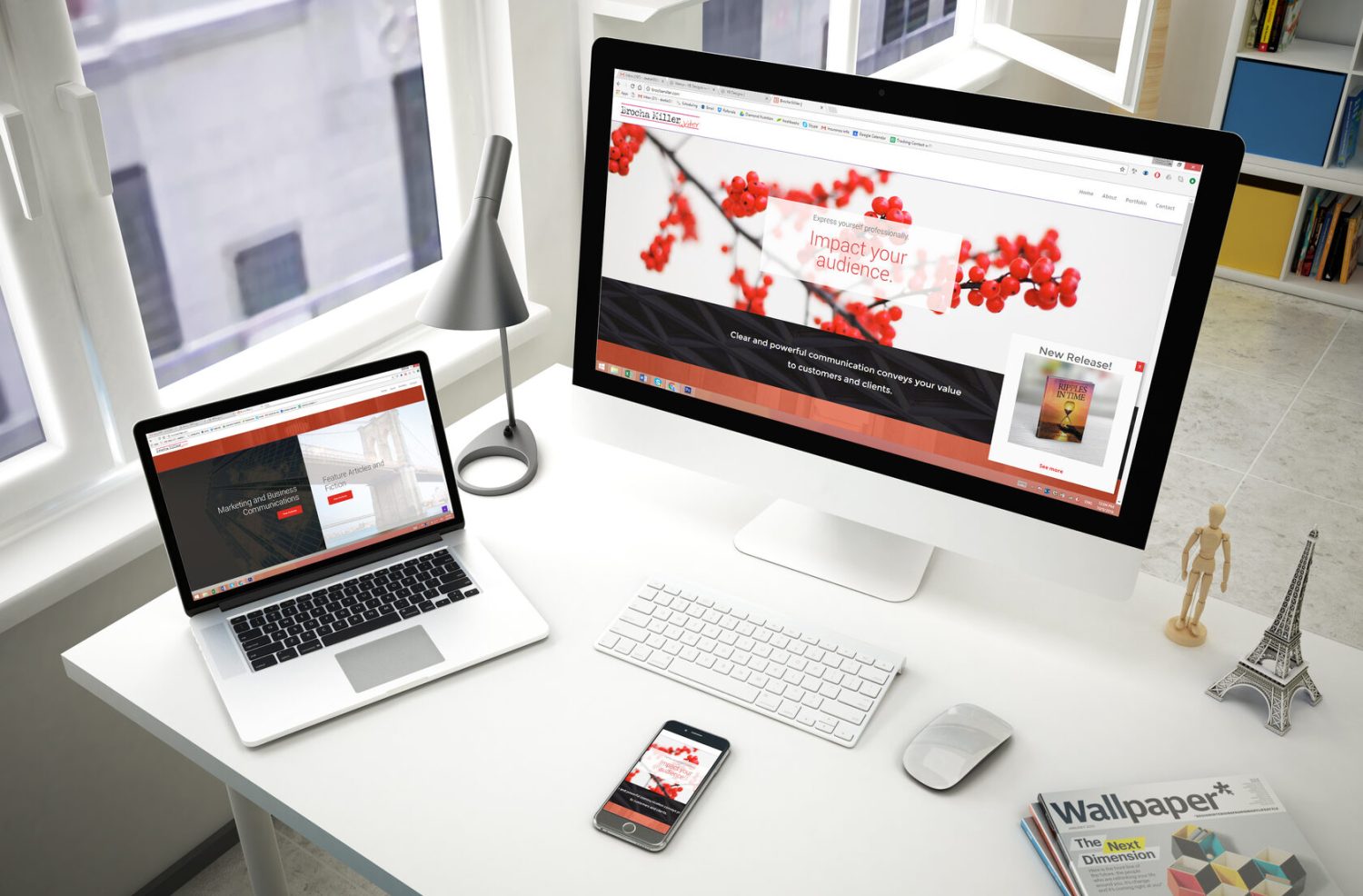 Web design and hosting services from a web design company in Damietta
Website design and hosting services. We are a company specialized in web design, graphic design and mobile design services, we are located in the Arab Republic of Egypt and have more than 14 years of experience in designing and developing websites, virtual stores, intranets, external networks, CRM systems, portals, web applications and mobile applications, as well as in Creating graphic pieces, multimedia and other web advertising tools, since our inception we have contributed over 400 national and international companies attesting to efficiency, responsibility and satisfaction guarantee.
What is web design and development?
Web design is a field that focuses on developing digital interfaces, such as designing websites and applications for the web. To do this, web designers create pages using markup languages ​​such as "HTML".
Web design includes work related to the layout and design of online pages as well as content production, although it is generally applied to creating websites. In this case web designers create pages using markup languages ​​such as "HTML or XML". On the other hand, the visual part of websites is responsible for "CSS" which is a term used to design elements written in "HTML" language.
So it is common for web designers to use both commands to build a site because together they will determine how pages will appear in browsers.
"WordPress" is one of the most famous and most practical because it contains a series of templates that can build the site, the web designer has the task of installing and customizing them according to what each client wants.
What does a web designer do and what are website design services?
While it is commonly believed that a web designer is responsible for creating fully engaging and effective websites, more than that web designers perform routine tasks related to creating a design for digital media and content creation.
So they must analyze both the customers' needs and their goals to create a website to give visitors the best experience. In addition, web designers must know how to insert graphics, use languages such as HTML, and update the site when necessary.
How do we provide web design and development services?
For an online presence there are three main components:
Hosting: (hosting a website on the server).
Domain: (the name of the website).
Good design (drawing).
Before submitting your image on the Internet, we conduct a detailed study of your company and advise you to choose the best option for your presence on the Internet. We analyze the target market, and we are always in touch with you to provide you with the guarantees necessary for your project.
To design your website our team of web designers develop the corresponding navigation charts and then deliver you a finished product of excellent quality.
Our team can evolve from your catalog type pages displaying your products in a simple but effective way to developments that deal with databases all according to your needs. We design your website using technology with adaptive or mobile adaptive web design services. We search, maintain and manage it, all at an excellent price and with the best care.
How much does it cost to hire someone to set up a website?
After we got acquainted with web design services, now we talk about the cost! This is an important aspect because at the end of the day you are spending money out of your pocket, while some startups choose to design a free website, a wealthy entrepreneur may hire a professional designer.
You can't look at a website and predict the costs you will pay to build that website, just because the design doesn't mean the owner has made more money! Does it load fast enough? Is it easy to navigate? Are search engines able to read the code?
To understand the cost you need to separate the different areas. There is setup, content creation, design, maintenance and more to deal with in order to start building a website.
The average cost of creating a different website from one company to another according to the professionalism of the web designers in it.
Setup costs This is agreed upon when you hire a professional web designer.
There are free website builders out there but you won't get the full benefits from them because you need to create your own identity.
The design and construction will take what is agreed upon. Don't neglect this aspect because your website needs good coding and should be able to load quickly, the creative aspect is equally important.
Content creation requires extra to be agreed upon, consider investing in a good content creator because content is king!
Maintenance requires an amount to be agreed upon, and hosting costs are also agreed upon monthly.
It takes about two weeks to build a website from scratch, it all depends on whether you choose HTML or you want to hire a professional, if you have a personal website you can choose a free website design ideal for blogging, this is not the best option for business! If you ask us we will tell you that you should invest in a designer and developer. Why ? The answer is simple!
You have a business you're running and a professional knows how to optimize and publish your website, find the right design, and handle all technical aspects. Price can vary as there is a lot of competition! There are many web design services and web development solutions companies that provide services at competitive prices, finding a company will not be a difficult task but you should choose the best one.
How can I hire a good web designer?
Just like an architect is hired from the start. The web designer is involved in the process from the start, they are creative and this is exactly how to turn their vision and ideas into a complete website theme and design.
To find a good web designer you should look into their portfolio, the professional will always have a portfolio to show to potential clients, never jump to the first offer because you need to get perspective and find the best designer for your website.
As a small or medium business owner you should focus on online brands, the whole world is on the internet and they are looking for products and information on websites. If you want to be seen in the Google search engine, it would be a good idea to hire a good designer and developer.
A website is no good without a good web design. So your first step should be to hire a good website designer, most companies have their own websites, portfolio page and they will sit with you to understand your needs and vision. We build professional websites to improve and enhance the user experience.
What is the best web design company in Egypt?
Nofal SEO is the best web design company in Egypt
What does a web designer do?
Create attractive websites, design digital media and insert graphics

[forminator_form id="3562″]