How to check your site from https
Scams are the day-to-day work of the internet, so checking website security is critical to protecting yourself online. Before opening a new page and possibly exposing your sensitive personal information, ask yourself this question: "Is this site secure?" Follow these 10 tips to check your site from https and to check website security and make sure all the sites you visit are safe. It is absolutely necessary online to check if a website is secure before sharing personal information such as credit card numbers, passwords, addresses, etc.
Use browser security tools
The most popular web browsers today include security features to increase protection on the web. These built-in browser tools can block annoying pop-ups, send Do Not Track requests to websites so they don't track you, disable unsafe Flash content, block malicious downloads, and control which sites can access your webcam, microphone, etc.
Now we invite you to review your settings. It tells you where to find the security features of each web browser.Chrome : Settings > Advanced settings Privacy and security
the edge : Settings>Advanced Settings
Firefox: Options > Privacy and Security
Safari: Preferences > Privacy
Use a website security scan tool
You can use a tool like Google Safe Browsing to check your site from https. This tool helps you to quickly check if a particular website or URL is secure. According to its page or not, Google's Safe Browsing technology scans billions of URLs daily for unsafe websites, making it a great tool for checking website security. You just have to copy and paste the URL into the search box. And press Enter Ready Google Safe Browsing will check the URL and inform you of the result in just a few seconds. That's easy.
A similar unbiased tool is VirusTotal's Security Checker, which scans sites with more than 70 virus scanners and URL and domain blacklist services for various types of malware and other computer threats. It works the same as Google's Safe Browsing tool: just enter the URL you want to check and hit Enter.
Whichever site checker you choose, be sure to bookmark the page for later use; It is especially important to check the security of the URL before doing anything sensitive that contains personal information, such as entering your credit card details.
Please review the URLs carefully
There is also an easy way to do your site check from https which is to check the URL. In other words, make sure you know where the link is taking you before you click on it. But how is this? Here's how my friend, hover your mouse over any link to see the URL associated with it. Move your mouse over the link above, but don't click it. In Firefox and Chrome, you should see the URL you are linking to in the bottom right of your browser: https://www.avg.com. easy right? You can also check URLs in Safari, but it requires an extra step. First tap on the View menu and then select Show Status Bar.Now when you mouse over the link, you'll see where it leads in the lower left corner of the screen. Also check that the addresses are spelled correctly. Most Internet users do not stop much to read texts. Hackers know this, and often replace some other similar character (such as "Yah00.com" instead of "Yahoo.com") to trick them into visiting phishing pages and unconsciously providing them with their passwords, credit card numbers and other private information. Don't fall in love with her. It takes no time to check if the URL is safe. And he deserves it.
Search for HTTPS
Another way to make sure that any site you visit is secure is to check that it is using HTTPS, and to check your site from https
HTTP (Hypertext Transfer Protocol) is the basic protocol for transferring data between a web browser and the pages being visited. HTTPS is simply the secure version of this protocol. (The "S" stands for "Security").
HTTPS is often used for shopping and banking, as it encrypts communications to prevent criminals from stealing confidential information, such as your credit card number or passwords. And how do you know that a website is using HTTPS? Find the lock in the navigation bar. If you see this, you know that the site you are browsing is using a trusted digital SSL certificate; In other words, the connection is protected and you are safe.
However, this is not a magic recipe. Some "phishing" sites may use HTTPS to impersonate legitimate sites. But what you should never forget is this: If a website doesn't have a lock, don't enter your password, credit card number, or any of your personal information.
Look for the privacy policy
If you're already on the website, but can't tell it's legit or not, look up the privacy policy. Trusted sites have a privacy policy page, as it is mandatory in many countries. So take a few seconds to search for their privacy policy as shown in the image.
But what do I do if the privacy policy is not understood? Unfortunately, privacy policies are often full of legal jargon and can be difficult to understand. It's a good idea to research words like "third party," "data," "storage," "save," and similar phrases like Ctrl-F (or Command-F on a Mac) to understand how the site handles your data and what you intend to do with it. . (such as keeping it forever or selling it to third parties). But it is a good idea to make sure that the site you are using at least has a privacy policy, because it is a good indicator of credibility and it is also one of the ways to check your site from https.
Don't blindly trust 'trust' badges
Trusted badges or logos often appear on e-commerce sites in an effort to appear trustworthy.
Some legitimate websites use it. But it is not difficult to add. Lots of sites copy and paste these codes, without real security measures behind them so it's neither site security nor checking your site from https. In fact, there are many articles that advise e-commerce sites to create their own trust seals to increase sales. In theory, you should be able to click on the trust logo and see if you can check it out. In practice, this often does not work well, whether on legitimate or fraudulent sites.But it is really important to run a few errands, especially before making any online purchase. What can you do as a user? Try searching for: reviews on online stores If it is a scam, you will undoubtedly find many posts from people complaining that they did not receive their orders or other problems. If you can't find anything, it's best to avoid that particular store and find another one with better reviews.
Learn about some clear signs that the site is fake
Sometimes a website has a questionable appearance that you can immediately notice without having to check your site from https and official check the reputation of that site. If you accidentally end up on a website like this, there are some obvious signs of malware to look for like:
Spam site: If the site has a lot of flashing warnings or exclamation points, it's probably a scam.
Pop-ups: If you come to a site and many pop-ups start appearing, it is best to close them all immediately and leave the site.
Malicious Redirects: If you are immediately redirected to a completely different website, especially if this is suspicious, this is a malicious redirect. It could mean that the original site is fake or it could be a legitimate site that has been attacked by malware that hides code on the site.
Search Engine Warnings: When you search for something, a search engine (such as Google) may display warnings next to some links, such as: "This site may have been hacked" or "Visiting this site may be harmful to your computer." Although these warnings are not 100% accurate, it is a good idea to choose an alternative option.
Use whois to find the owner of the domain
Do a whois search (pronounced "who is") to see who owns the domain This is one way to check your site from https, as it identifies you, where and when the website was registered, contact details, and other information. It is very simple and when you do it you will feel like a private investigator. This program will help you determine whether the website is fraudulent or not.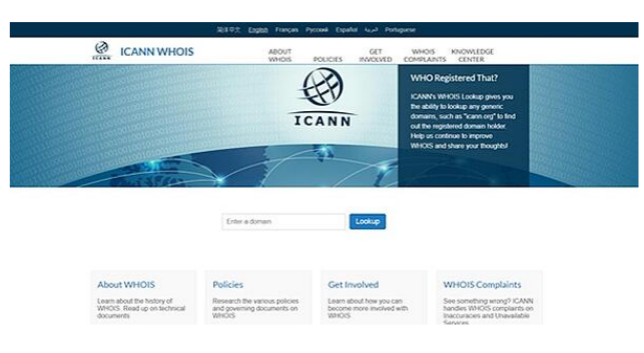 Contact the company
Still skeptical about whether the company is trustworthy in the first place? Find their contact details and make a phone call. Seriously, you can learn a lot based on how they respond to you. If the number does not exist, or if someone responds in a teenage voice with "Uncle, is that you?" Trust your instincts right away, because now you know something fishy has happened to him. But where do I find the contact details of a website? At the top or bottom of the home page, find the "Contact" or "About Us" link. Or use the "whois" search to see if the phone number is listed there.
Install Web Security Tools
Using a program like AVG can also help you avoid malicious websites. Download AVG AntiVirus Free for basic protection. It includes Web Shield, which blocks malicious downloads, and Email Shield, which blocks attachments of the same type. You can also try AVG Internet Security for free for 30 days to get the best online protection. It includes Fake Websites Shield, which prevents Phishing websites and will enable you to scan your site from https.