Your comprehensive guide to professional keyword targeting
If you want to know the definition of a keyword, we must start by knowing what is SEO (Search Engine Optimization), one of the most talked about points related to keywords in search, choosing keywords and how to choose the most searched keywords, we will talk about them in this article with SEO Professional Ahmed Nofal.
Define the keyword
What are keywords: Keywords are terms made up of one or more words. It is how the user writes their doubts about SEO in order to get answers and solve their problems.
Basically, keywords are the main search tools. I believe that all searches originate from a word that is used to present this problem to the search engine. Keywords in search can be defined as the terms that users use to get answers and solve their problems. If you're a marketer, keywords are the terms we use for targeting when creating our pages, blog posts, and sites.
Meaning by selecting a keyword for a particular page, you will convey the message to Google, for example, that your content is about the topic of that specific term. If all goes well and you make the right choice, your content will be shown exactly to the person who searched for That keyword.
What types of keywords are there?
Brand keywords: As its name suggests, they are those that contain our brand name, so in principle, it should be easy for us to position your website so that it appears in the first results when users enter it into a search engine.
Short keywords: These are very general and general keywords about a sector, which attract a large number of user searches and competition. For example, "e-marketing". Usually, short keywords consist of one word or very few.
Long keywords: Search terms are long, complex, and specific, usually consisting of several words. For example, "Social media marketing for businesses.
Why are keywords so important to your business?
Keywords in Google today are very important because they are part of the future of your business of pages to buy and you can't leave them waiting to be placed, while others advance you here are some points:
They give you positioning in web search engines.
Being ahead of your competitors.
Your customers will find what they need quickly.
If you have similar products to the competition, you will be first in the search list.
It means the difference between being found, read, shared, liked, or simply not entered due to ignorance or outright ignorance. This is exactly why keywords are tools that help in content marketing.
When preparing your investment plan, one of your company's main goals is to increase leads and thus increase your sales. On the Internet, your content will face more competition than your industry, no matter how crowded it is.
In Internet search engines, the limits are smaller, the results per investigation, and the millions of possibilities are within the reach of the audience. This means that it is not enough to just choose a few keywords and distribute the keyword in the text.
Thinking needs to be more strategic and careful about it in order for your business to stand out. So, start by asking yourself why you should use keywords. The answer should come quickly and clear in your mind: "Because I need to help my audience find them online."
Only the answer can not stop there. You have a phased path, which means that there are different types of audiences with different types of questions. Everyone who has started the buying process still wants to know the basic elements related to the universe in which your product or service is listed. Anyone would likely do research between different brands to determine the benefits of one over the other.
Each keyword should be considered as a question that needs to clarify a topic, not half-words. The role of your company's content is to focus on presenting it, so that you are fascinated by your ability to answer questions, and among them, you can move forward in building a relationship of trust with your company.
This means unlocking based on keywords, informing visitors and converting them into potential customers. This conversion from visitors to customers is precisely the main goal of marketing.
How to choose Google keywords?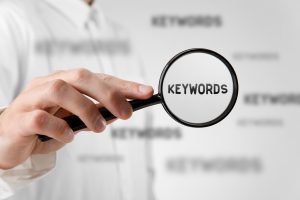 Keyword research is one of the first steps of an SEO strategy and also one of the most crucial. When choosing keywords for your website, factors such as:
Relevancy: The basic premise is that the user will find what they are looking for, so the keyword should be closely related to our brand, products and services.
Number of Searches: The more users search for keywords, the more visits to your website we can get by optimizing it. There are several tools that allow us to consult monthly search data for a keyword.
Competition: To get a high ranking in search results, you have to compete with other websites that are trying to rank for the same keyword as you. Therefore, we are interested in searching for keywords in search that are not yet very popular.
What do negative keywords mean?
Negative keywords are those that tell Google, in an AdWords campaign or ad group, which search terms you don't want to attract your business.
From the moment you know your target audience won't find what they want when they enter your ad, you stop paying for clicks on your ad that will barely generate a lead, or even close a sale. In practice, this means getting more customers who are genuinely interested in your product or service, rather than curious visitors who will click (it's worth noting that clicking on the ad generates a fee from Google), and spending a few seconds scanning content from the page, not finding what you're looking for About it and back to the results page.
Where is the keyword located in the text?
To explain where the keyword is located in the text, we will divide this first section of the article into two sample text parts:
1. Text with paragraphs. In text that contains paragraphs, the keywords are usually in the first or second line of the paragraph. It is also common for keywords to be repeated in several paragraphs, which gives you evidence that the keyword you have chosen is the correct keyword.
2. Text without paragraphs. This is a somewhat more difficult type of text than text with paragraphs. Since there is no physical separation, what we have to do is search for the most important text links from the text. Usually it's always the same links but also, first, then, last, last…. These links are necessary for the purpose of identifying keywords because they allow us to break down the text as if it were paragraphs. These links are also usually placed after and follow the point. If you are able to select four text links in the text, it will look like the text is divided into five parts, and each part will have an idea and that idea corresponds to the keyword. In the following text you can see the text links in blue. It is also important to keep in mind that in non-paragraph texts the main information is always in the first lines and what is done next is to develop keywords throughout the text.
What keywords in the text should we choose?
Those people who have the ability to define keywords are those who control the categories of words, and who know how to distinguish the type of word each word is made of. Next I will comment on the categories of words that can be keywords in order of importance and frequency. We will explain how to choose Google keywords:
1. The names. Noun is considered the most important grammatical category when it comes to identifying keywords in a text. They are the most important because the name is the category that contains the most information about the text and is able to capture the gist of that text. When you are looking for keywords in a text, you should always look at the names, because they are the ones that will help you understand the gist and basics of the text. But sometimes a noun needs the help of other grammatical categories to fully understand it. What does this mean? Sometimes a keyword can consist of more than one word. Let's see the three most common types referred to by name:
Noun: Nouns that contain the keyword in one word. They can be common or proper, concrete and abstract nouns.
Noun + Adjective: In this case, the keywords consist of two words that refer to one concept, where the noun needs the adjective and the adjective needs the noun so that the concept of the keyword has all its meaning. Therefore, the keyword can consist of two words.
Noun + and Noun: In this type of structure we have two nouns and a preposition. In this case, the same thing happens with the noun and the adjective, each noun needs the other in order to have a full meaning. Therefore, keywords also consist of more than one word in this case.
2. Verbs. Try to select as few keywords as possible as they tend to give little background information. Usually a few verbs are marked as keywords in the text. If you consider it appropriate to choose a verb as a keyword, I advise you to convert it to a noun below in case you have to write a summary later.
3. Attributes. As in the case of verbs, you should try to specify the minimum number of adjectives as keywords, unless the noun requires them for the keyword to make sense. The adjective is a grammatical category that accompanies and characterizes a noun, but the adjective is not the type of word that is able to capture the essence of the text in general.
4. Adverbs and prepositions. In the text, there are very few cases where the adverb or preposition is a keyword. In this case, I would only recommend taking them into account as keywords when modifying the meaning of the sentence. This would be the case of the negation of the adverb no or the sin of the preposition.
Tips for finding the keyword in the text
Here are some tips for finding keywords in the text and making it easier for you.
extension
In general, keywords are not long, they are short words that do not relate to any concept.
repeat
Because the keyword has to be repeated many times, for one reason it has become spam which is bad for SEO, but it is usually repeated twice in a paragraph.
basic concepts
This is to find basic concepts such as:
Noun
procedures
Names
verbs
How to find the most searched keywords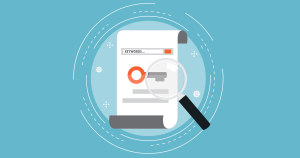 This article teaches you how to search for the most searched keywords using free online tools. Keywords are used in online marketing for search engine optimization (SEO), creating meta descriptions, and increasing social media relevance. Identifying the most popular keywords at the moment can increase the effectiveness of your marketing.
Useful Google Tools for Keyword Research
If we're trying to figure out which keywords are most relevant to our site, we've likely looked at some of our competitors to see what words or phrases they use as keywords. But surely the question arises, how can we find this information in a faster, easier and free way?
Here are 5 tools from Google that can help us search for keywords or keyword phrases. These tools will help us to get a better position and thus get more visits to our website.
1. Google AdWords
Google AdWords is probably the most used tool by businesses for finding the keywords and/or phrases needed to create new and effective campaigns. Its operation is very fast and simple, once our list of keywords or keyword phrases is complete, we get Google search ideas. Once we have the results, we'll have information about how advertisers are competing for each search term, as well as how many people search our keywords per month. Once we have completed our study, we can save all our information in files in different formats: csv and xml.
2. Google Insights
Google Insights lets us know what Internet users are searching for on the Internet. It is a tool that allows us to analyze keyword search trends, and compare search volumes by regions, categories and time. With this tool we have the option to export the data in csv format.
3. Google Trends
Google Trends is a tool that allows us to always know the search trends of users within Google. It should be noted that it shows us the seasonal growth that some keywords may cause as a result of a temporary phenomenon. It also allows us to export all the data in csv format.
4. Google search engine
The Google search engine can also be used as a tool to find keywords and/or keywords. When we enter a keyword into a Google search engine, the search engine provides us with the words related to our search, which in turn are the result of the most searched words or phrases by users on the Internet. Another tool found in Google search engine that can help us is related keywords. To do this, we have to go to the sidebar and click on More tools related searches. A list of keywords related to the search criteria we entered will appear at the top of the search results.
5. Google Analytics
Google Analytics is a tool that allows us to measure and compile statistics about the interaction of users on our site, that is, it helps us to track and get some insight into the conditions that users use to access our site.
6. SEMRush
It provides advice on the paths to follow to the success of your content. It is worth analyzing your own site, as well as the pages of your competitors and who you consider a reference in quality and results. The free version of SEMRush offers an overview, but the paid version is perfect for a complete layout.
7. Keywordtool
The tool allows you to choose from a myriad of languages, many countries, and different search engines like Google, Youtube, Amazon, etc. In addition, Keywordtool analyzes it. Google's autocomplete resource gives you more ideas, and offers options for keyword shapes, especially long keywords.
8. KWFinder
This comprehensive tool also allows you to choose between multiple languages ​​and sites. In addition, KWFinder offers you a list of keywords with detailed information, such as search volume, CPC, level of competition in advertising, difficulty of SEO positioning, major competitors and even the number of shares in social networks.
9. Moz Keyword Explorer
Keyword Explorer is one of the Moz tools extensions for SEO. It's not much different from the other options mentioned here, especially SEMrush. Its functionality is very similar, such as suggesting relevant terms, competition data, search volume, and difficulty score for organic keyword surveys.
And to find new keywords, you can also analyze your competitors "manually". That is, notice the types of content they post and what generates more organic traffic. Accompanying your competitors allows you to get new ideas and inspiration for content you might not have thought of until now, or even discover more in-depth topics that you can also cover in your blog in your own way.
What role do most searched keywords play in SEO?
The use of keywords is very frequent and effective when we talk about optimizing so that your site is in a good position in searches.
As an SEO (Search Engine Optimization) technique, keywords should be used strategically, thought and defined within an effective planning of your e-marketing strategies.
meta descriptions
When we talk about site optimization we need to remember goal descriptions. The meta description is nothing more than the description that appears in Google (Did you know the summary that appears below the title is blue? This should be done straightforward, but without ceasing to motivate people who visit the pages. Including the content keyword in the meta description is essential.
Url
In addition to always thinking about the user experience and generating urls, another important point of content optimization is the title of the page itself.
Try to shorten your URL as much as possible and create a simple and clear address. The best way to use a url is to include the keyword in that area.
SEO title
It is not only your blog title that should contain the pre-selected keyword. Unlike the page title, the SEO title is what will be displayed when your content appears in search results in Internet search engines. At this point, it is also essential that the keyword is present.
Title tag
You should also use keywords in the internal titles of your articles. Depending on your blog's format, the title tag will likely be the same as H1. Regardless of whether it's an H1 on your blog or not, follow the rule that the keyword should always be there.
Unlike an SEO title that's meant to get someone to leave the search page to enter your content, a title tag is a title that's meant to ensure the reader stays on your page and continues reading your article.
How do you define the keywords in your strategy?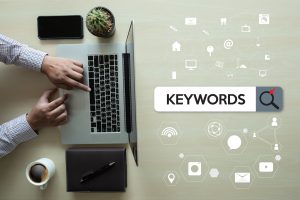 An SEO expert will introduce you to some of the actions you can take to ensure that your keywords meet the marketing objective you have set for your strategy:
Put yourself in your audience's shoes
Like we said before, it's important to think about people to select business-related keywords. If you haven't done identification for yourself yet, find out how to do it here. It's important to identify the terms your audience is searching for the most from the moment they start looking for information on the topic. your product or service. Thinking: How do you search for a product or service on the Internet?
There are many possible research variations for a particular issue and this audience research is specifically effective for producing results that match that audience's position.
A good tip to be able to identify these opportunities is to try to talk to some of the right people for your audience, whether they are clients or potential clients and ask these questions to discover them.
Consider the sales funnel stage
Keep in mind that the reader will be looking for different shapes as well, depending on where they are located. Practically speaking, it's important to remember: If you're looking for alternatives to solve a problem, focus on the problem, even if it's a keyword.
What are keyword tools?
Keyword Tool - Google Ads Keyword Planner - MOZ - Semrush.
What are the best keyword research tools?